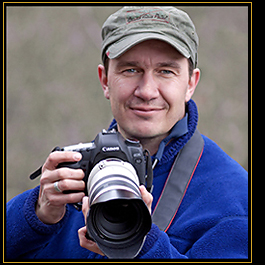 Peter A. Dettling, born October 15, 1972 in Sedrun - Switzerland, is a photographer, painter and author whose passion for the natural world has taken him all over the globe, from the Galapagos Islands to Alaska's far north, and from the African Plains to the Swiss Alps. His images have won numerous awards and are published regularly in various print outlets and leading magazines. His clients include organizations such as Malik/National Geographic, Canadian Geographic, Maclean's, Outdoor Photography Canada, Animal Planet, Nature of Things/CBC & SRF (Swiss Radio & Television). His work has been portrayed on TV and has been featured in gallery shows across North America and Europe, including the world-renowned American Museum of Natural History in New York & the Smithsonian National Museum of Natural History in Washington, D.C.
Since his childhood, Peter has been deeply moved by people who work passionately for saving the last remaining pristine environments and the wild animals that live in them. Peter is driven by the idea that art can make a difference. Peter hopes his art will promote a better relationship between humans and nature, in particular, with large predators, such as wolves and bears. In 2006, Peter Dettling was one of the first ever to photograph a wild wolf on Swiss soil after they started to make a shy comeback in the Alps late in the 20th century. Click to learn more about Peter's work on wolves and bears and other past projects.

In order to stay up to date about Peter A. Dettling's current projects, sign up for our e-newsletter. If you would be interested to start your own limited-edition Dettling fine art print collection please check out the Terra Magica online store.
Peter Dettling's images have won numerous prestigious awards, such as:


Nature's Best Magazine, USA 2006 (Category Winner), 2012 (highly honored)
Banff Mountain Film & Book Festival, Canada 2006 (Category Winner), 2008 (runner up)
Teva Mountain Games, USA 2006 (Category Winner)
CPAWS, Canada 2004, 2005 & 2006 (Category Winner)
Canadian Geographic, Canada 2005 (Category Winner)
Travel Photographer of the Year, England 2006 (runner up), 2012 (finalist)
Glanzlichter, Germany 2005 (highly honored)
BBC- Wildlife photographer of the year, Great Britain 2005, 2007 (finalist)
European Nature Photographer of the year 2008 (highly commended)
Memorial Maria Luisa Photography Contest, Spain 2011 (two time finalist)



Other Awards:

Best illustrated book ("The Will of the Land") in Alberta 2011
Art award "Kunst in der SüdostSchweiz", Switzerland 2011